Residential & Light Commercial
Design & Installation Manual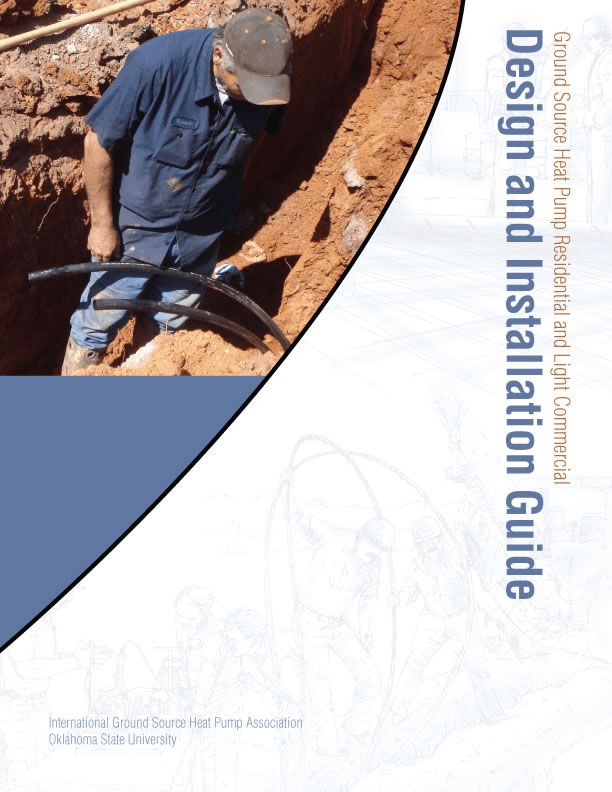 Summary
Authored by Geo-Connections engineers, this 560-page manual is the latest and most comprehensive textbook available for the design and installation of residential and light commercial GSHP systems. This must have reference for all geothermal system designers and installers is loaded with illustrations, charts, diagrams, and tables to support and expand the informative text.
Trainings That Use This Text
Part of The Geo-Collection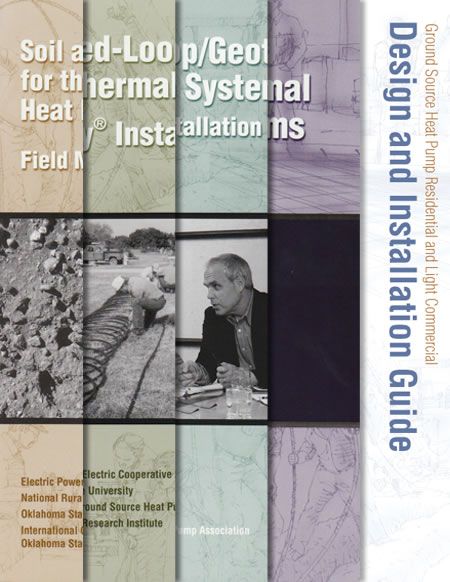 Save on shipping with this five book set. This complete starter library for geothermal heating and cooling system designers and installers includes:
About the Author
Charles Remund
Dr. Remund received his undergraduate and masters degrees in Agricultural Engineering from South Dakota State University, and his Ph.D. in Engineering from the University of Nebraska in 1988. He was on the Mechanical Engineering faculty at South Dakota State University from 1988 to 2009, where he taught thermodynamics, heat transfer, fluid dynamics, design of thermal systems and applied laboratory courses.
While at SDSU Dr. Remund was principle investigator on many research projects associated with ground source heat pumps, specifically addressing heat transfer characteristics of grouting materials, soil and rock. He also worked with regional electric utilities and the Geothermal Heat Pump Consortium through the Northern Geothermal Support Center, through which many were trained in various aspects of ground source heat pump design and installation.
Since 2009, Dr. Remund has been involved entirely in the private sector, where efforts to promote ground source heat pumps through design assistance and training (GeoConnections, Inc.), soil and rock formation thermal conductivity testing (GRTI), and the sale and technical support of thermally-enhanced grouting materials (GeoPro, Inc.).
Ryan Carda
Ryan Carda has been involved in the ground source heat pump industry for over 5 years. His involvement in the industry has included research, development and technical support for thermally-enhanced grouting materials in addition to design, installation, commissioning and troubleshooting of all types of geothermal systems.
Ryan has provided loopfield design assistance to PEs across the country on commercial projects exceeding 5000-tons worth of installed closed-loop GSHP system capacity. He is a co-author of "Design and Installation of Residential and Light Commercial GSHP Systems", developed in cooperation with the International Ground Source Heat Pump Association (IGSHPA).

Ryan has also helped with the development of the current curriculum for IGSHPA's 3-Day Accredited Installer's Course and is actively involved in the training of industry professionals on the subjects of proper GSHP system design, installation, and troubleshooting practices.
Since his involvement as co-author of IGSHPA's latest design and installation manual, Ryan's efforts have primarily turned to the development and advancement of LoopLink RLC and LoopLink PRO, our web-based ground source heat pump modeling and design software programs.
Ryan graduated with his Master of Science degree in Engineering from South Dakota State University in 2006.
Table of Contents
Introduction and Overview

The Case for Ground Source Heats Pumps
Residential and Light Commercial Space Conditioning Systems
The Ground Source Heat Pump Concept
Heat Pump Operation
GSHP System Materials and Components
Brief History of GSHP Systems

Performance of GSHP Equipment

Types of GSHP Equipment
Energy Balance on the GSHP and Ground Loads
Factors that Affect the Performance of a GSHP
Performance of a Single-Capacity, Water-to-AIr GSHP
Performance of a Dual Capacity, Water-to-Air GSHP
Performance of Water-to-Water GSHP
Design Criteria for GSHP Equipment Selection

Selecting a GSHP for Heating and Cooling Loads

Overall System Design Procedure for the GSHP
Heating and Cooling Design Load Calculation Procedures
Indoor Air Quality (IAQ)
Selection of Water-to-Air GSHP Equipment
Air Distribution System Layout and Design
Building/Zone Energy Analysis Using Bin Method

Piping Materials, Properties, and Flow Characteristics

Pipe Types and Uses
Pipe Thermal Resistance
Pressure Ratings
Head Loss
Flow Capacities
Flushing Flow Rates

Design of Closed-Loop Ground Heat Exchangers

Configuration and Layout of Closed-Loop Ground Heat Exchangers
Vertically-Bored, Closed-Loop GHEX Design
Horizontally-Trenched, Closed-Loop GHEX Design
Horizontally-Bored, Closed-Loop GHEX Design

Interior Closed-Loop Piping Design

Overall Interior Piping Design Procedure
Piping Materials
Pressurized & Non-Pressurized Flow Centers
Building Penetration Methods
Interior Piping Layout
Pump Sizing

Installing The Closed-Loop GHEX Piping System

Site Evaluation
Designing for the Site
Forming a Site Plan
Project Preparation & Installation Guidelines
Vertically-Bored, Closed-Loop GHEX Installation
Horizontally-Trenched, Closed-Loop GHEX Installation
Horizontally-Bored, Closed-Loop GHEX Installation
Installing the Loopfield Header
As-Built Drawings
Site Restoration

System Flushing & Purging

System Pre-Startup
Flushing & Purging Basics
Verifying GHEX Pressure/Flow Design
Charging the System with an Antifreeze Solution
Pressurizing the GSHP System Water Side
Pressurized Flow Center Startup Procedure
Non-Pressurized (Standing Column) Flow Center Startup Procedure
Flushing/Purging Guidelines for Multiple Heat Pump Systems

Domestic Hot Water Heating

Domestic Hot Water Options
Domestic Hot Water Generation Costs and GHEX Design Parameters
Integration of Hot Water Generation GHEX Design Parameters into
GHEX Design Worksheets

Resistance Heat

Resistance Heat Operation
Installing Resistance Heat

GSHP Startup, Performance Checking, and Troubleshooting

GSHP System Startup
GSHP System Operation and Performance Checking
Troubleshooting